How to make a TextView look like a system search bar
Originally Published on February 6, 2023
Republished on June 22, 2023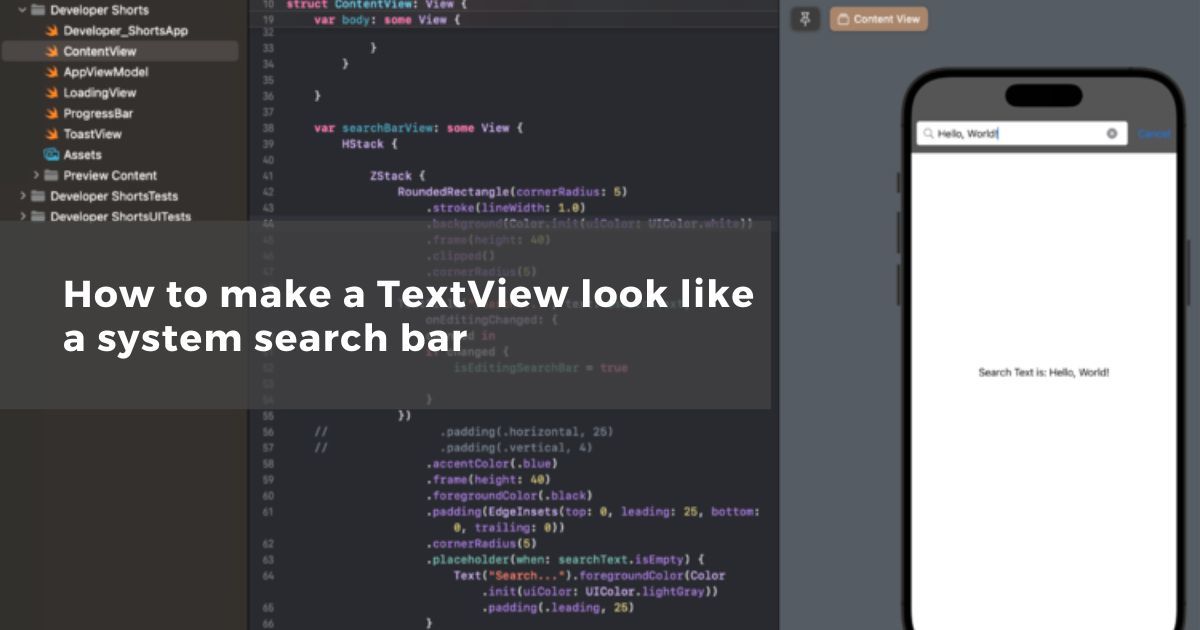 I was recently creating an app where I had to perform a search with a server and was starting to create the search bar. The first thing I found when googling "SwiftUI search bar" was to add a ".searchable" modifier in a NavigationStack, like this:
NavigationStack 
    Text("Searching for \(searchText)")
        .navigationTitle("Searchable Example")
    }
    .searchable(text: $searchText) 

This didn't exactly fit my use case, so I had to dig deeper.
I traditionally start with a ZStack and then create my views from there. I also wanted to get the functionality of a TextView, but make it look like a system search bar. So, I needed a custom view for this.
Here it is if anyone wants to copy it!
import SwiftUI

struct ContentView: View {
    @State private var searchText = ""
    @State private var isEditingSearchBar = false
    @State var resultsAreEmpty = false

    var body: some View {
        ZStack {
            Color.white
            VStack {
                searchBarView
                Spacer()
            }
            VStack(alignment:.center) {
                Spacer()
                Text("Search Text is: \(searchText)")
                Spacer()
            }
        }
    }
    var searchBarView: some View {
        HStack {
            ZStack {
                RoundedRectangle(cornerRadius: 5)
                    .stroke(lineWidth: 1.0)
                    .background(Color.init(uiColor: UIColor.white))
                    .frame(height: 40)
                    .clipped()
                    .cornerRadius(5)
                TextField("Search ...", text: $searchText, onEditingChanged: {
                    changed in
                    if changed {
                        isEditingSearchBar = true
                    }
                })
                .accentColor(.blue)
                .frame(height: 40)
                .foregroundColor(.black)
                .padding(EdgeInsets(top: 0, leading: 25, bottom: 0, trailing: 0))
                .cornerRadius(5)
                .placeholder(when: searchText.isEmpty) {
                    Text("Search...").foregroundColor(Color.init(uiColor: UIColor.lightGray))
                        .padding(.leading, 25)
                }
                .overlay(
                    HStack {
                        Image(systemName: "magnifyingglass")
                            .foregroundColor(.gray)
                            .frame(minWidth: 0, maxWidth: .infinity, alignment: .leading)
                            .padding(.leading, 0)
                        if isEditingSearchBar {
                            Button(action: {
                                self.searchText = ""
                                resultsAreEmpty = false
                            }) {
                            Image(systemName: "multiply.circle.fill")
                                 .foregroundColor(.gray)
                                 .padding(.trailing, 6)
                            }
                        }
                    }
                )
                .padding(.horizontal, 10)
                .onChange(of: searchText) { text in
                    print("onChange text: \(text)")
                    resultsAreEmpty = false
                    if text.count < 1 {
                        // Remove Loading View
                        // Remove Results View
                        // Remove Error View
                        print("\(String(describing: type(of: self))), \(#function), \(#line)")
                    } else {
                        // Show Loading View
                    }
                }
                .onSubmit {
                    runSearch()
                }
            }
            .padding(.horizontal, 8)
            .padding(.vertical, 4)
            .cornerRadius(5)
            if isEditingSearchBar {
                Button(action: {
                    self.isEditingSearchBar = false
                    self.searchText = ""
                    self.resultsAreEmpty = false
                    UIApplication.shared.sendAction(#selector(UIResponder.resignFirstResponder), to: nil, from: nil, for: nil)
                }) {
                    Text("Cancel")
                }
                .padding(.trailing, 10)
                .transition(.move(edge: .trailing))    
                .foregroundColor(.blue)
            }
        }
        .padding(.top, 8)
        .padding(.bottom, 8)
        .background(Color.init(uiColor: .darkGray))
    }

    func runSearch() {
        // Send search to the server
    }
}

extension View {
    func placeholder<Content: View>(
         when shouldShow: Bool,
         alignment: Alignment = .leading,
         @ViewBuilder placeholder: () -> Content) -> some View {
         ZStack(alignment: alignment) {
            placeholder().opacity(shouldShow ? 1 : 0)
            self
        }
    }
}