The One with the Best of Constant Variables
Published on November 29, 2021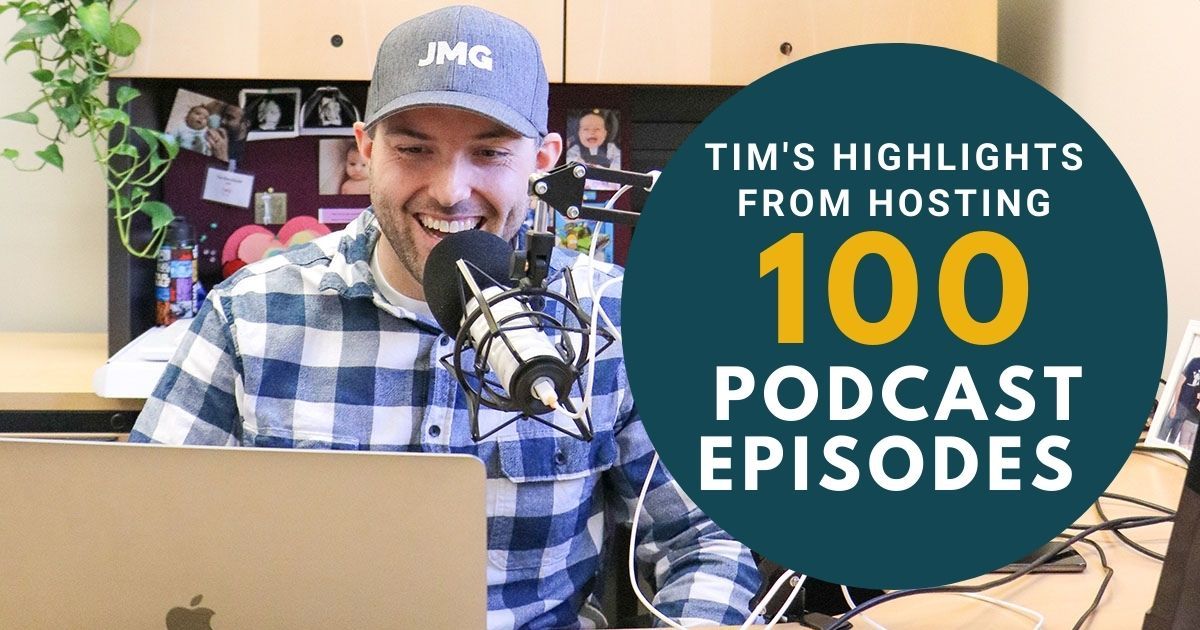 When I started Constant Variables in 2017, it was me and my business partner, Rob, talking about some of the questions we were asked everyday, like:
How much does it cost to build an app?
Is my app idea good or bad?
Should I build for iOS or Android?
At the time, podcasting was still relatively new and any content produced around tech was heavy with industry-specific terminology. We wanted to break the stigma that building technology is complicated, so we started Constant Variables simply to make tech easier to understand.
4 years, nearly 100 episodes, and 20,000+ downloads later, the show has evolved quite a bit. We have an editor and a producer, transcripts of each episode, a consistent release schedule, processes for scheduling and interviewing guests, and Rob's been replaced by much more interesting guests. (Just kidding, Rob.)
As we approach our 100th episode, I've been taking a look back at the valuable insights we've collected around working with mobile technology, and I thought it might be helpful to put together a list of our most memorable episodes as an index for our back catalog.
And since the show's producer, Jenny, had a hand in putting this list together, it's been styled after the naming convention of her favorite TV series, FRIENDS.
If you've been listening to Constant Variables for a while, please share your favorite episode with me by connecting on LinkedIn or by emailing us at hello@constantvariables.co.
The One with the Most Downloads
How to Protect Yourself (and Your Business) Against Social Engineering has received the most downloads by far. This is and isn't surprising to me.
Episodes featuring interviews tend to receive more downloads, since guests share the content with their network. This episode, however, doesn't feature a guest. It's just me rambling about a topic I find interesting. So I was a little surprised to see it's been our top downloaded episode so far.
The content is what doesn't surprise me, since social engineering is a huge concern these days. I've participated in talks around social engineering that have linked to this episode, so that's probably helped it see so much reach too.
If you haven't listened to it yet, it's a quick 20-minute episode about the most common types of social engineering attacks with some tactics to implement to ensure you stand the best chance of protecting yourself from yourself (and from your employees accidentally making a mistake).
You can find it here: How to Protect Yourself (and Your Business) Against Social Engineering
The One with a UX Expert
Many of our episodes have user experience tips, but Brad Ash's conversation drives home how UX proves an app's value and why it shouldn't compete against existing user behaviors.
You can find it here: Merging Art and Science in App Development with Brad Ash of Fruitful
The One Where Tim Was a Fanboy
I don't usually work on my birthday, but when the CEO of Fastmail wanted to be a guest on the show, recording an episode with him was a highlight of the day. I've been a Fastmail user for years, and it is a service I truly enjoy, so you can hear the passion on both sides of the mic in this one.
You can find it here: Making Email Private and Better for Everyone with Bron Gondwana of Fastmail
The One as a Series
This isn't actually one episode, but four, and collectively, this series has seen more downloads than The One with the Most Downloads mentioned earlier.
The App Development Lifecycle Series features an episode on app strategy, design, development and testing, and deployment and is a really good introduction on building an app from the ground up in a digestible manner.
The One with Jargon
Remember our goal for starting the show mentioned earlier? That was the premise behind an entire episode we did called Explaining Common Mobile App Terms.
While this episode is still relevant, we created a blog post on it that has been regularly updated with new terms. You can find that blog post here: Mobile App Development Glossary
The One with the First Interview
My first interview back in 2018 is still relevant today! I spoke with Kwikly founders Pedram Nastaean and Yomiyu Hirpa about how to launch a mobile app without technical experience.
The One with Three Guests
Most of our interviews include only one guest, sometimes two. But we did have one conversation that included three guests, and our editor, Jordan, had his work cut out for him.
Hear the inspiring story behind the development of the Minnesota Family Investment Program's pilot app on How Ideas Turn into Apps with the Team Behind the MFIP Connect App.
The One with the Most Feedback
My chat with Black Tech Talent's Mike Jackson led to a lot of outreach by listeners. His candidness around the misrepresentation of Blacks in technology had many audience members reaching out about their learnings from the conversation.
You can find it here: Building a Business & Community with Intention with Mike Jackson of Black Tech Talent
The One with Tim's Favorite Episode
If you listen to even half of the back catalog, you'll hear me say a dozen times, "This is my favorite podcast episode." As the show host, admitting to having a favorite episode is a bit taboo, like admitting to having a favorite child.
My conversation with Jazz Hampton of TurnSignl was effortless, like catching up with an old friend (which he is). The conversation led to us talking about which Avenger character we would each be, making it my favorite episode to date.
Jazz and I have known each other for many years now, and I could not be more proud to partner with him on the tech side of TurnSignl. We cover so much ground in this episode around getting a tech startup off the ground, working with investors and users, working with law enforcement instead of against, getting an app built under a tight timeline, and so much more.
I can't implore you enough: fire up your podcast client of choice right now and get this episode in your queue: Forming the Tele-Legal Avengers with Jazz Hampton of TurnSignl.
---
If you've listened to the show, thank you for your valuable attention.
If you've shared the show, thank you for introducing us to your friends.
If you've given the show a review, thank you for helping us reach new audiences.
If you've been a guest on the show, thank you for connecting and sharing your time and experience with our audience, and with me.
If you have a content idea or guest suggestion for the show, hit up our producer, Jenny, at hello@constantvariables.co.
If you'd like to give feedback on the show and share with us some of your favorite podcasts, here's a survey.
Cheers to the next 100 episodes. 🍻