Walk and Talk: Walk Away from Coffee Meetings
Published on July 13, 2021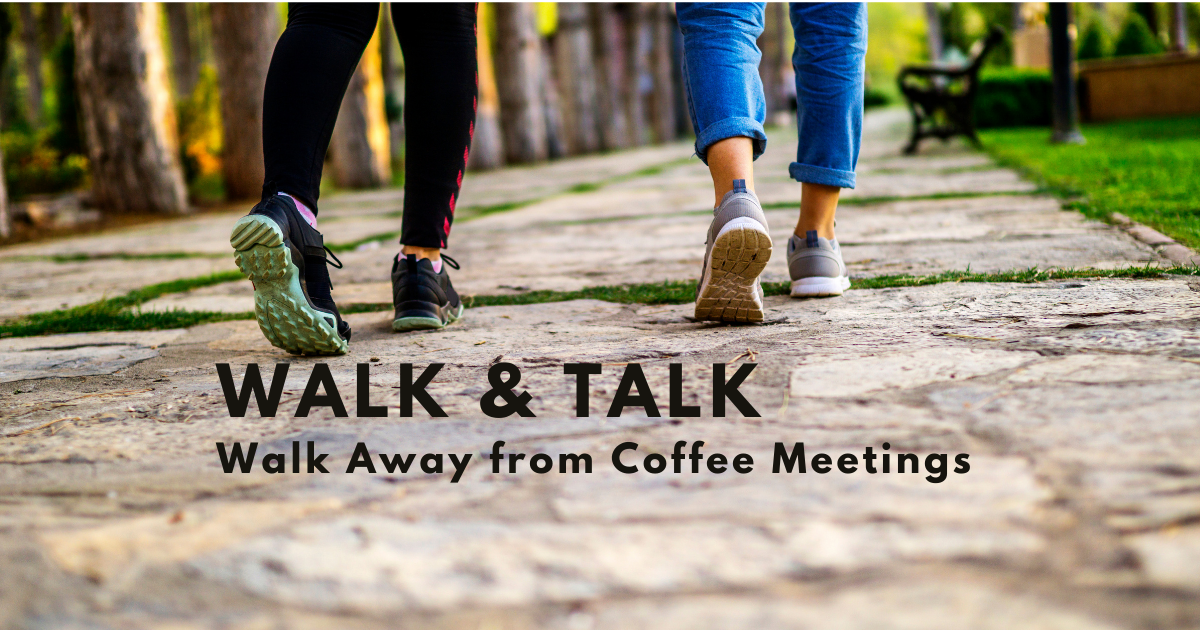 A personality quirk of mine that I've come to accept over the years is that once I get into tracking something I care about, I really get into it.
I've tracked every single beer I've consumed since August 2012. (For those wondering, that's 5,866 beers total, 3,392 of which are unique.)
I've also tracked every single run I've been on since September 2010. (Again, for those wondering, that's 1,031 runs, with an average distance of 4.94 miles per run, and a total distance of 5,100.58 miles.)
Several years ago, I got a Fitbit to track my steps. I've gone back and forth between apps and pedometers, but I've settled on using the delightful Pedometer++ app for the past handful of years. (And again, if you're angling for some stats, Pedometer++ is telling me I'm at 24,293,090 steps total, which is equivalent to half a trip around the Earth. My single day record for most steps is 103,152, which was when I ran a 50 mile ultramarathon.)
All this to say: I love walking, and I take so much joy in being on my feet as much as I can.
At this point, you're probably thinking two things. First, yes, I totally understand that this is a weird personality quirk of mine, and like I said, I'm accepting and owning my specific form of weird.
Second, how in the world am I able to ever get any work done?
In this post, I touch on what spurred me into doing so much walking, how I've incorporated it into my professional life, and how my professional networking time is way more healthy and effective than it used to be.
The Benefits of Walking
I probably don't need to do a whole lot to convince you that walking even a little bit every day is way better for you than living a sedentary lifestyle.
But in case you like facts and scientific research, here are a few cool facts about walking:
Most people pretty easily get 3,000 to 4,000 steps a day doing household chores, grabbing their mail, or going grocery shopping. Harvard Health found that people who walk 8,000 steps per day may live longer than those who walk just 4,000 steps per day. Even better: it doesn't matter how fast you go!
The Annual Review of Public Health found that "physical inactivity is associated with an increased risk of common noncommunicable diseases: type 2 diabetes, cardiovascular disease, major cancers, musculoskeletal disability, and a broad range of other adverse health outcomes."
A study done by the American Psychology Association found that "walking boosts creative ideation in real time and shortly after." They also found that "walking opens up the free flow of ideas, and it is a simple and robust solution to the goals of increasing creativity and increasing physical activity."
Anecdotally, I've found that even on days when I'm sore from a long run the day before, or when I'm stuck in meetings all day and my legs are restless, getting out and walking for 10-15 minutes dramatically improves my mood. I feel happier, more energetic, and find that solutions to problems come more easily.
So all in all, walking is a big win from all fronts: it keeps you physically and mentally healthy, and it boosts creativity.
So why don't we do it more often at work?
Walk and Work: The Merger
The reason I've been able to maintain my walking streaks and get so many steps is because I've slowly introduced walking into as many pieces of my life as I can.
In my personal life, I often take my wife and kids out on walks. Anytime my family calls me, I pop in my headphones and stroll around the block. Anytime I get a minute to myself, I'll throw on a podcast and do a loop around my neighborhood.
In my professional life, I've been advocating for walking for years, and I've found a lot of ways to introduce it into our routines.
Here's a prime example: my business partner and I have had a daily meeting every day nearly since we started the business. In the early days, these meetings would be held seated in front of our computers. After a while, we found that when we were meeting in person, it was way more enjoyable to hold these meetings while walking around the neighborhoods where we lived.
We explored the skyways of Downtown Minneapolis, walked around the ponds in St. Louis Park, hiked the bike trails that cross through Hopkins, feared for our lives while walking the busy streets of Edina, and dealt with the unplowed paths of a recent snowfall in Bloomington.
As I reflect on it now, so much of our business was formed while walking and talking. The solutions seemed to just pour from the ether. Whenever we'd get stuck at our desks on a problem, we'd turn to the other and say, "Do you have five minutes for a walk around the building?" It wouldn't take three minutes before a solution surfaced.
Weather had very little impact on these walks. Our old office building in Hopkins had a "production area" filled with large hallways that were frequently barren. Whenever it was too cold or too rainy outside, we'd do several laps through the hallways.
Those days of jumping inside are rare, though. Even after a huge snowstorm in the -20°F weather last year, I had an hour-long chat with Rob over the phone where he was trudging through the same mess six towns away.
The notion of a walking meeting began to permeate through our organization, even without our explicit prompting. We hold weekly meetings with our developers, and those are almost all now done out on the walking trails. Developers who would get stuck with a problem would take a couple laps around the building and come back with a new idea to try.
A New Challenger Appears: the COVID-19 Pandemic
COVID-19 came with a lot of challenges for our organization, but meeting virtually didn't impact us nearly as much as other organizations. We were already holding most of our internal meetings through Zoom and phone calls, so the leap to including our clients virtually was relatively seamless.
The main downside to this pandemic from a business standpoint was the inability to see each other face-to-face. While virtual meetings work well for scheduled affairs (milestone reviews, weekly catchups, etc.), they aren't the best for when you need to have tough conversations or deep exploration around a specific topic.
We made our way through the pandemic the best we could, but I had a hunch that deep down, once the restrictions were lifted and everyone was comfortable meeting in person, we should try a better way to interact with each other.
The Birth of the Walk and Talk
Once I got my second COVID shot and waited the two weeks to achieve "maxxination", I was ready to get back out and see people again.
Around this time, I had a great conversation with Jon Lenz, the Managing Director at Br8kthru Consulting. After the call, I asked him if he'd be up for meeting in person sometime.
I was thinking through possible places we could meet, and after throwing coffee shop patios at him, I thought "Hey, maybe he'd be up for walking around a park?"
We ended up deciding to meet at Lebanon Hills out in Eagan, and we proceeded to have one of the most fun conversations I'd had in months. Jon is a former Division I track athlete from the University of Minnesota, so it was fun trying to keep up with him as we navigated some relatively steep hills, but I think I held my own. ☺
Shortly after that walking meeting, I recorded a podcast with Diane Rucker, the Executive Director of University Enterprise Laboratories, and we were talking about how much more fun it is to hold meetings while walking. I asked her if she'd like to go for a walk and, to my surprise, she agreed.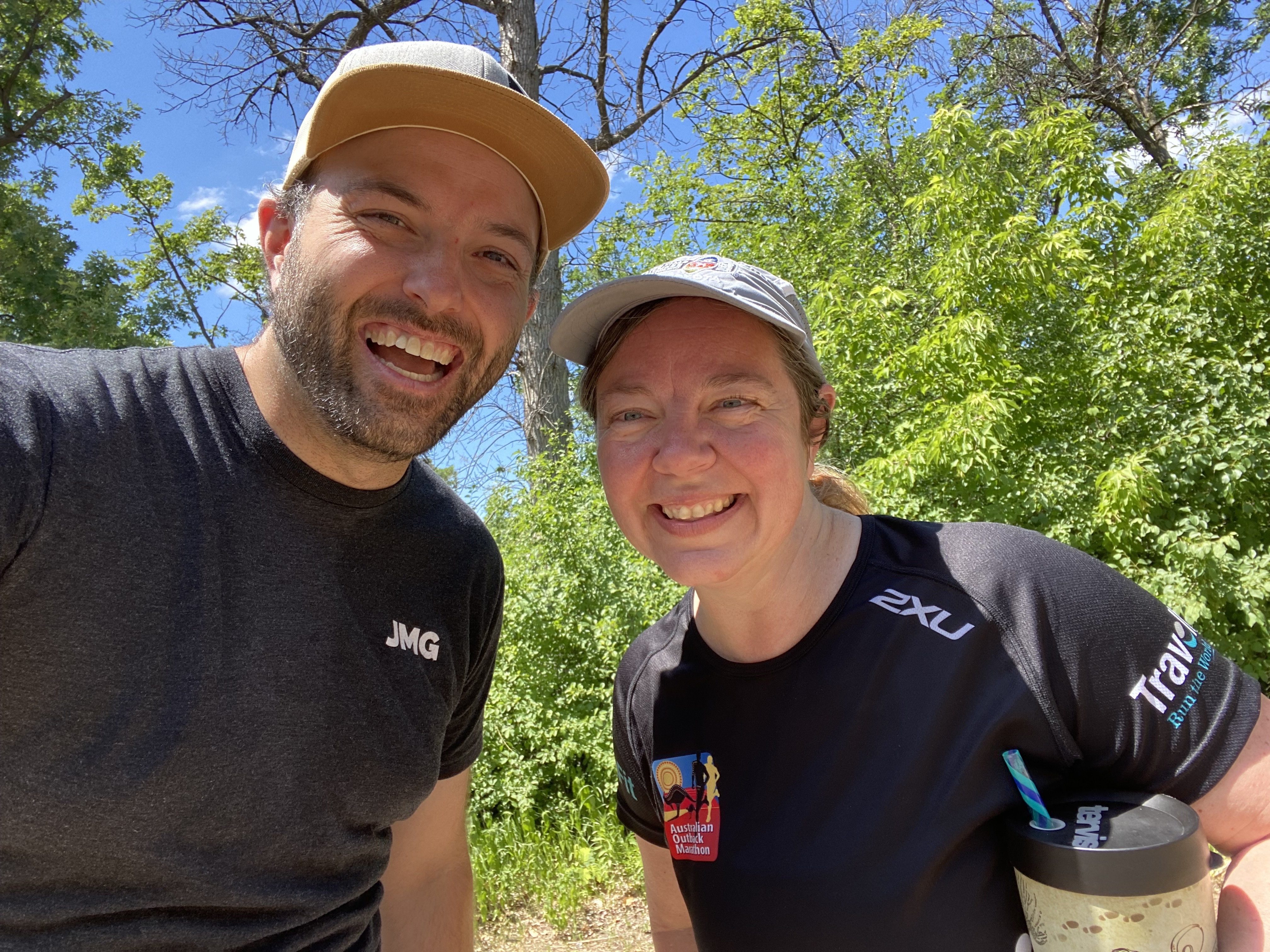 The Experiment
Following those two events, I made a post on LinkedIn asking people if they'd want to try a walk and talk. That post has received 2,700 views, 34 reactions, and 13 comments.
The parameters of the walk are as follows:
Someone reaches out to me and says they're willing to walk
We work out a date/time and location that is mutually convenient for both of us
We meet up, walk, and talk
In the month since I made that post, I've gone on seven walks. Only one of those walks was with someone I had met previously; the other six were folks that I've had in my network (often for years) but never had a reason to connect.
We've met in a wide variety of places ranging from Lake Harriet/Bde Maka Ska to the Mississippi River Road to the St. Croix River out in Hudson.
I've had incredibly wide-ranging conversations with these folks, including:
How to properly equalize audio while recording a song
How enterprises manage and distribute their internal mobile apps
How to determine your personal and professional values
How to wind down a project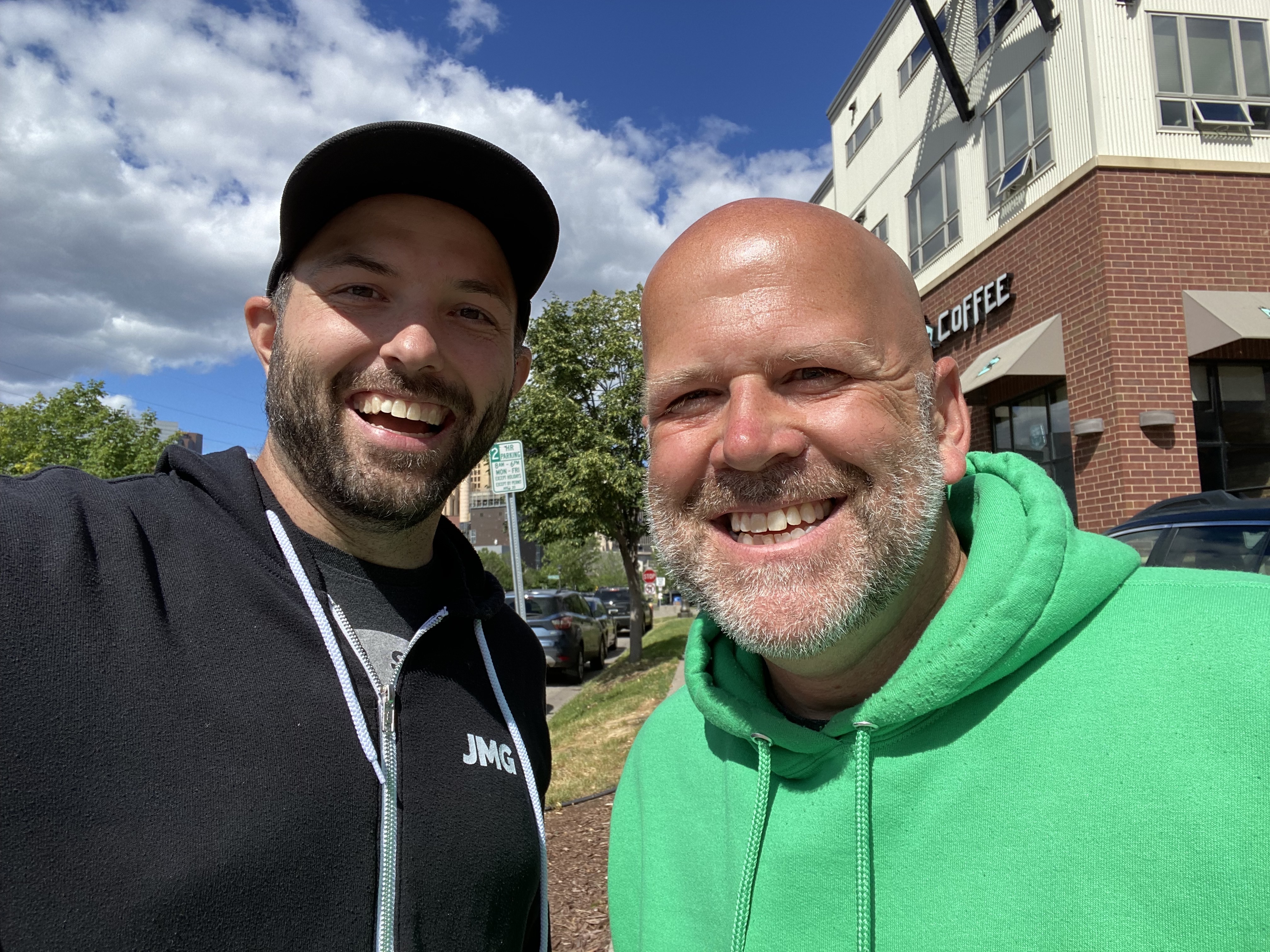 And what have been the results?
While I haven't closed any million-dollar deals or landed flagship accounts through this experiment, I think this experiment has shown that plenty of folks are eager to connect in a way that isn't the usual coffee shop sit-down or Zoom chat.
In my line of business, sales aren't closed on the first interaction. It takes some back and forth to establish trust and clear lines of communication. Having an uninterrupted and distraction-free opportunity to connect with someone is so rare these days, so these walks help us differentiate ourselves from our competition and provide a single unique memory that is easy to recall.
I've also heard from other folks on LinkedIn who have taken this concept as well and gotten some walks going. If we can be at the start of a movement to normalize doing business while on a walk, that'll be something pretty neat to hang our hat on.
What's next?
I have at least 5 more walks scheduled in the next few weeks. After a few more of these walks, I plan on taking this concept and figuring out how to bring it to a wider audience.
If you would be interested in going for a walk with me, please reach out by emailing me at walk@jmg.mn! I'm happy to meet you anywhere in the Minneapolis/St. Paul area, and we can chat about anything!
From a professional standpoint, I love to chat about the everyday challenges and victories we each face at work, and from a personal standpoint, it wouldn't bother me if we just shot the breeze and chatted about family life. The important thing for me is getting out and meeting new folks!