parrot.md
A technology solution for local physician call coverage raised over $650,000 in funding after launch of its apps.
Services Provided:
Strategic Consultation
iOS Development
Android Development
Ruby on Rails Development
About
Parrot.MD is a digital tool that allows physicians to anonymously trade call obligations with other credentialed physicians, giving them freedom to work on their terms, reducing burnout, and creating opportunity for a secondary income source.
Challenge
Two leading causes of physician burnout are too many weekly work hours and a lack of autonomy. Specialty physicians are contracted to cover multiple on-call shifts every month. These shifts often add quality of life stress due to the unpredictability of call obligations, potentially late hours, and the burden of finding coverage when these shifts need to be changed or traded.
Parrot.MD CEO Tim Steele worked in medical device sales for 35 years. He frequently heard from physicians about the stresses of call rotations and knew there had to be a better way.
"Doctors have a high suicide rate in their profession because of physician burnout and a lot of it is attributed to no autonomy," says Tim Steele, CEO of Parrot.MD. "Physicians are always looking for another option to get out of call without going to the same colleagues over and over again, and we thought, there has to be a solution to call."
Parrot.MD's goal was not only to connect doctors with other credentialed physicians for covering call shifts, but to serve another purpose in providing a secondary income for doctors with student debt.
"There's no time for physicians to get a second income, other than high-end academic doctors that are few and far between. Even a doctor one day out of residency can pick up a call on Parrot.MD and earn some extra money."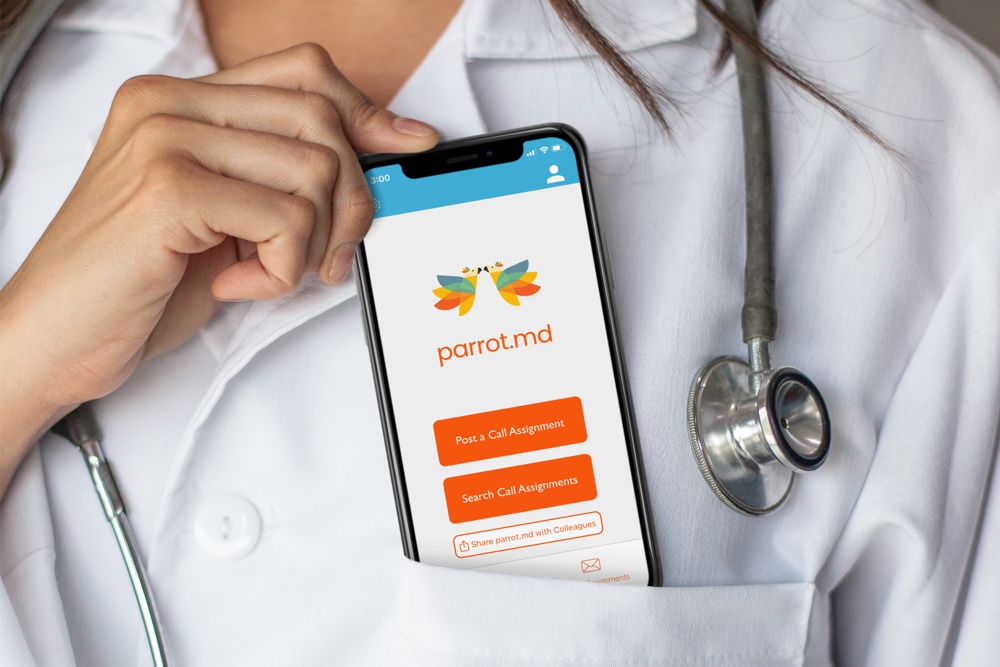 Solution
Tim and his partner came up with the idea for an app to facilitate call assignment trades, process the exchange of payments, and maintain anonymity of physicians. But building an intuitive, 3-sided marketplace with a focus on confidentiality isn't easy.
JMG handled each stage of the app's development lifecycle, from strategy and design to development, testing, and deployment, in conjunction with Parrot.MD's team, to create custom iOS and Android apps.
We took a step-by-step approach to building the apps by collaborating with multiple focus groups across various medical specialties.
"We would develop the profile page, the shift posting section, the shift receiving section, the credential validation process, the notification process. Then we would pull groups of doctors together to demo it and do multiple trades, throwing variables at it where three docs would bid on a call at the same time. After every focus group and test run, we'd come up with one or two more things that made the app more flexible, more agile." Tim Bornholdt, Co-Founder of the Jed Mahonis Group.
"We started with a one-man development shop on our first attempt for about a year, but he couldn't keep up with the complexity. We took some bids, and JMG landed in the middle range. Some of the bigger places we went to were really expensive and inflexible. JMG was willing to work within our means and our budget. They're a hardworking, smart, concierge service team."
Results
Launching the app gave Parrot.MD the confidence to complete their first raise of $650,000. But the ultimate result? Peace of mind.
User testing sessions with physicians have sparked universal, over-the-moon excitement, and CEO Tim Steele's goal for Parrot.MD is to have 30,000 doctors on the app within the next 3 years, targeting dense urban populations like Manhattan, Chicago, and Philadelphia.
Taking the functionality of the custom iOS and Android apps, Parrot.MD and JMG are in progress on a website for hospitals and large practices to utilize within their organization, as well as a secondary product for nurses to trade shifts in Parrot.RN.
"Tim and Rob at JMG are good decision makers, responsive, and flexible. When faced with a problem, they were always honest, which I liked. They have a nice blend of styles, like Felix and Oscar."